Jim Thomas

Jim Thomas is a 1986 graduate from the Traditional Acupuncture Institute in Laurel Maryland, where he earned his Masters Degree in Acupuncture. He co-founded the Center for Healing Arts, a multi-disciplinary holistic healing center in Westminster, Maryland in 1986 and later in 2010, created Samara, a healing and retreat center near Taneytown, Maryland.
Jim integrates his extensive training and clinical experience into a process he calls TransHealing. This form of healing combines the classical wisdom of Oriental Medicine with contemporary insights from Transpersonal Psychology. He has also studied shamanic healing, cranio-sacral work, and zero balancing.  Jim is certified in the Deep Memory Process developed by the late Dr. Roger Woolger and has studied at the Washington Center for Consciousness Studies with Rudy Bauer, Ph.D. His studies include Empty Force Qi Gong under the tutelage of Master Shuren Ma.
Jim completed Jonathan Goldman's Sound Healing Intensive in 2013 as well as the I Am Light program at Peace Valley Sanctuary in Arkansas in 2015; a curriculum that focuses on the development of energetic awareness and spiritual growth. His 40-year history playing diverse musical styles informs and provides a rich foundation for his current interest in the transformative power of music.
In Sounds Of Spirit, Jim's blend of musical experience and healing modalities allows him to create an intentional, potent environment of sound and energy. Jim invites you to join him within that space; a safe, protected field in which to find guidance, insight, and enlightenment.
---
Paul Thomas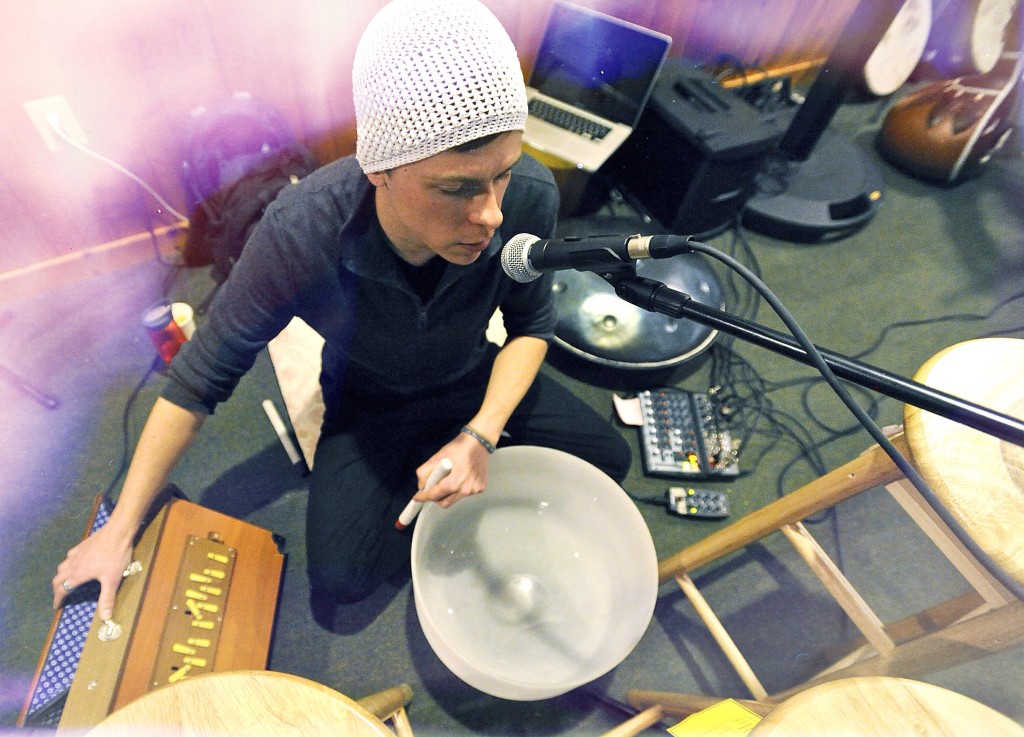 Paul Thomas obtained his B.A. in Contemplative Psychology from Naropa University in Boulder, Colorado.
Over several years of continuing self-study, he has explored various facets of sound healing, holistic medicine, and Eastern and Western mysticism. 
Paul completed Jonathan Goldman's Sound Healing Intensive program in July 2013 and is also strongly influenced by the work of Tom Kenyon. He is partnered with Mysterium Music and is presently working on a full album for meditation and yoga practice. Paul offers individual Sound Healing work at the Samara Healing Center in MD.
He feels that sound has a powerful way of moving the deep waters of our being, illuminating the cavern of the mind, and igniting the fire of our heart. With Sounds Of Spirit, Paul opens himself as channel for catalytic sound which helps transport people into their deep emotional, energetic, and transcendent levels of being. It is here where patterns of imbalance in mind and body are rooted, and seeds of awakening and healing await activation.
---
Pitz Quattrone 
Since 1993, the Didgeridoo/Yidaki from Arnhemland, Australia has taken Central Vermonter, Pitz Quattrone from the Arctic Circle to the Equator performing, recording and passing on his knowledge of this ancient wind instrument. His deep felt connection to the Didgeridoo joined with his eagerness to share what he has learned, has become a mission of his life's work. Pitz also teaches the Didgeridoo to people who suffer from sleep apnea in order to drastically reduce and alleviate its episodes.
Since the mid 80's, Pitz has been professionally involved as an integral member of many projects performing and recording a wide range of musical styles. Pitz has collaborated with a diverse list of artists that includes: Pete Seeger, Ronstadt Generations, Dark Star Orchestra, Tony Vacca, Vinx, Massamba Diop and Barou Sall of Baaba Maal's band, John Flynn, Entrain, Dom Flemons, Professor Louie of The Band, Guy Davis, Dan Landrum of Yanni's band, and Josh Hisle.
In Sounds of Spirit, Pitz creates a deep primordial resonance that bonds the collective vibrations and allows people to connect with ancestral wisdom and healing.
---
David Powell 

David has enjoyed thirty-five years of study and experience with Shamanic and Native American traditions. He has assumed the role of Fire Tender for Samara Healing Center's sweat lodge for the last 15 years and has led healing ceremonies for groups and individuals.
During the Sounds of Spirit concerts, David performs with several hand percussion instruments and plays metal gongs, all of which he uses to bring to life the spirit of the natural world.